Cryptocurrency market participants benefit greatly from trends and historical data. Tracking past behavior influences many investors' decisions. bitcoin While it was around $16,490 on January 1, it is trading around $22,600 today. However, the last two candles on the chart were red. This means that it is in a "correction" stage according to historical data.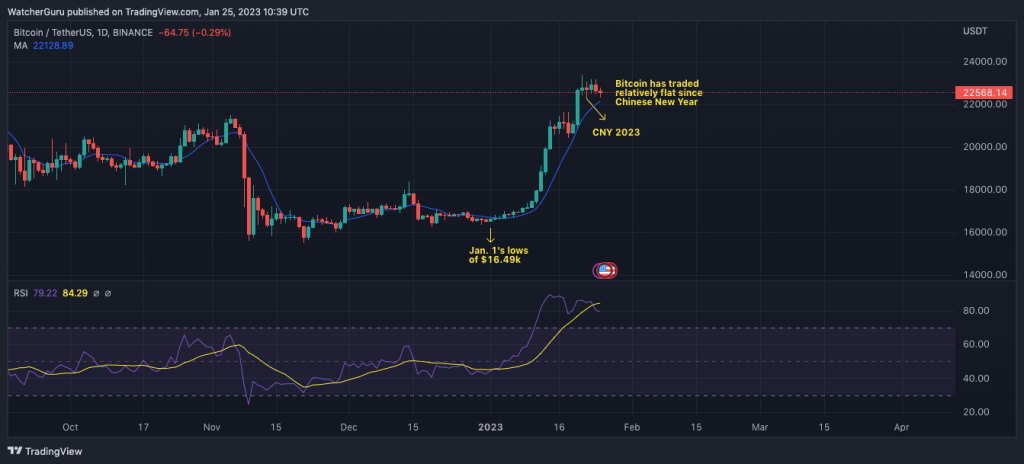 If the historical data really works, it is possible to say that the days of stagnation will end soon. Markus Thielen from Matrixport noted an interesting trend in the matter. According to this trend, buying Bitcoin at the end of the first day of the "Chinese New Year" and selling after 10 trading days generates an average of 9% revenue. Thielen claims that this trend remained positive throughout the years 2015-2022.
Bitcoin Macro Trends
Chinese New Year was on January 22. However, it is still not too late to step into the market. The chart below shows Bitcoin's performance up to five days after the start of the Chinese New Year.
"The average accumulated Bitcoin return for ideal timing is around 15-19 days, as prices tended to rise by +12% when purchased on the first day of Chinese New Year, and 15-19. It reached its peak in days."

Koinfinans.com As we have reported, if the distribution is made according to years, it is possible to say that 2018 was a bit difficult. However, it is possible to see recovery at the end of the first few days. As a result, the optimistic outlook remains with the one-week additional period.
So, if the trend in question manages to repeat itself, Bitcoin is likely to see a short spike in the next few days.
"The start of the Chinese New Year has been an attractive entry timing for long positions."
While the trend is promising, investors are advised to be skeptical of such claims.
Despite the recent losses recorded by Bitcoin, the bullish outlook continues since the beginning of the year. Charlie Bilello emphasized that BTC has increased by 36% so far in 2023, showing that perhaps it is on the right track.
Bitcoin Returns since 2010…$BTC pic.twitter.com/PyM4gu5CdG

— Charlie Bilello (@charliabilello) January 25, 2023
You can follow the current price action here.
Soruce : https://www.koinfinans.com/bitcoin-stratejim-yildir-yaniltmadi/